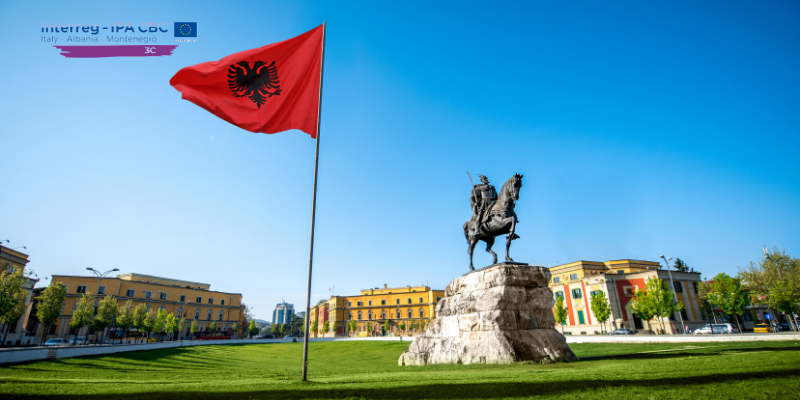 3C Project, Art Park in Tirana
Overview
Ministry of Culture of Albania is implementing the 3C Project, part of IPA CBC Programme Italy – Albania – Montenegro.  The main goal of the project is "Revitalization and Requalification of the Territory of the former Kinostudio Shqiperia e Re". 
The Park of Art is the creation of a temporary and permanent exhibition space for the works of artists, around the Ministry of Culture. The concept idea starts with the first project entitled "Friends and Angels", which turns the premises of the former Kinostudio into a space-garden dedicated to Antonio Gramsci. The idea of the Italian artist and architect Alfredo Pirri aims to revitalize the park around the ministry and the whole environment will be turned into a space for artists' works of art. The Art Park will turn the public space around Kinostudios in the service of art and the community, giving the area a great development.
The ART PARK project is located in the area of the former Kinostudio "Shqipëria e Re", in the northeastern area of the capital and aims to revitalize the urban atmosphere of the entire Kinostudio area by turning it into one of the most important cultural poles of the city. In accordance with the general local plan of Tirana 2030 which provides for the organization of the city with several points of gravity, the Kinostudio area plays a key role in this organization as one of its cultural catalysts. The park around the Ministry of Culture is an area of importance from the historical point of view and the activities that have taken place in it, as one of the main terrains of film development for more than 5 decades. Although not accessible to the public and with a minimum of maintenance over the years, this park offers the potential to become a very important recreational and cultural destination.
The development of a cultural center in one of the most valuable buildings in the city, which also has the status of "Cultural Monument", aims to achieve an urban revitalization of the area, not only by rebuilding's the entire complex, but also by creating infrastructure active that will encourage the development of the cultural and creative sector. The new space, which is expected to be added to the capital soon, will be accessible to artists, cultural operators, creative entrepreneurs and a range of complementary and interactive sectors that would potentially provide a sustainable development of the Park. The works of the infrastructure phase for the Project "Park of Art", in the premises of the Ministry of Culture, are nearing completion. So far, over 70% of the physical work has been done for "Revitalization and Improvement of Green Area" and "Restoration, Adaptation of TV Balcan and Cinema". It is expected that the works will be completed in April 2022.